UPDATE on 1 September 2016: RIL Chairman and Managing Director, Mukesh Dhirubhai Ambani has announced Jio Welcome Offer in Jio's Annual General Meeting (AGM). Welcome offer consists of free unlimited 4G Internet Data, Calls and SMS for all India customers from 5 September 2016 to 31 December 2016. It is targeting to acquire 90% market share by porting almost all the Indian customers till March 2017 on Jio. It has also unveiled that its Local and STD calls will be always free for lifetime and consumers only need to recharge the 4G pack and they will get Calls and SMS for free. Also there will not be any blackout day charges on Reliance Jio. Apart from it, Jio is also giving free roaming in PAN India for lifetime. Reliance Jio SIM will get activated in 15 minutes via e-KYC.
In this AGM, Mukesh Ambani also announced JioFi Devices for Rs.1999 which is Rs.999 price drop from its introductory offer of Rs.2899.
For customers who have already purchased We have created a petition to refund Rs.999 to the JioFi Device Owners so that they should not get cheated.
Please sign your petition at Change.org – Click here to Sign or Visit http://goo.gl/WjNVfP
---
UPDATE on 21 August 2016: Reliance Digital has started Jio Open Sale for all 4G Mobile Phones. You can visit any Reliance Digital or Reliance Digital Mini DX Store to get the 4G SIM Card by displaying any 4G Mobile Phone.
---
UPDATE on 19 August 2016: Reliance Jio Preview Offer is now available on LG Select Phones as mentioned below.
---
UPDATE on 17 August 2016: Reliance has introduced JioFi 2 Wi-Fi Modem-cum-router Device (priced at Rs.2899) with Free 3 months Preview offer via Jio SIM Card, on the occasion of Rakshabandhan.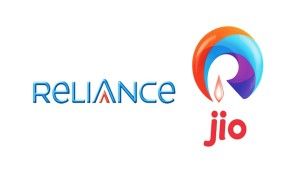 Reliance Jio, an unit of RIL (Reliance Industries Limited – A Mukesh Ambani Company) has kind of Revolutionized the Internet Speed and Phone Usage by giving its users Unlimited 4G VoLTE Data (FUP apply), Unlimited Calls and Unlimited SMS (SoLTE) and created a huge craze in Indian Folks of all age groups, is now available for all Users with some Conditions, until Jio gets an Official Launch.
Actually Reliance Jio is the only provider in India, which is giving dedicated 4G speed to its consumers as of now, and that is why everyone is becoming insane to get this. 🙂
Reliance Jio 4G Sim Benefits:
We will get unlimited 4G Internet Data
Unlimited Local and STD Calls via VoLTE (VoLTE Full Form: Voice over Long-Term Evolution)
Unlimited Text Messages or SMS via SoLTE / MoLTE – (SoLTE Full Form:  SMS over Long-Term Evolution) / (MoLTE Full Form:  Messaging over Long-Term Evolution)
Internet Bandwidth upto 60 Mbps (Mbps full form: Mega Bits Per Second) – Download Speed upto 7.5 MBps (Mega Bytes Per Second) (Divide by number eight (8) to get the actual download speed. e.g. If bandwidth is 60 Mbps, then downloading speed => 60/8 = 7.5 MBps)
Upload Bandwidth Speed upto 10 Mbps
Reliance Jio Speed Test: As per TRAI App at 11:38 AM (Download Speed: 57.19 Mbps, Uploading Speed: 2.81 Mbps):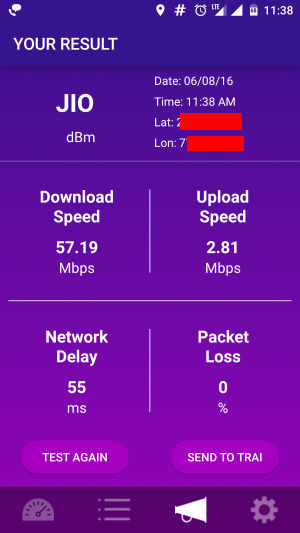 As per Speedtest.net App at the same time (Download Speed: 44.02 Mbps, Uploading Speed: 2.89 Mbps):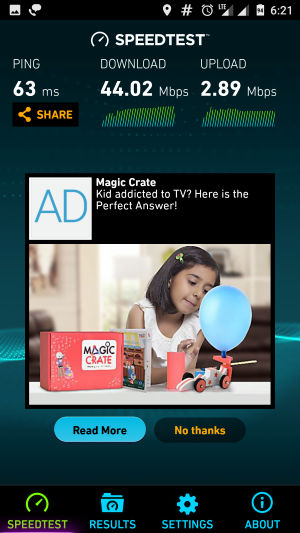 How to get Reliance Jio SIM with Non-LYF Mobile Phones?
Currently Reliance is either offering the free Jio SIM Card with LYF Phones, or people who have below mentioned Partnered Samsung & LG (Life's Good) Mobile Phones:
LG 332 (K7 LTE)
LG K520DY (Stylus 2)
LG K520DY
LG H860 (LG G5)
LG K500I (X Screen)
LG K535D (Stylus 2 Plus)
LG LGH630D (G4 Stylus 4G)
LG LGH 442 (LGC70 Spirit LTE)
Samsung Galaxy S7
Samsung Galaxy S6 Galaxy Edge Plus
Samsung Galaxy S6 Edge
Samsung Galaxy S6
Samsung Galaxy Note Edge
Samsung Galaxy Note 5/Galaxy Note 5 Duos
Samsung Galaxy Note 4
Samsung Galaxy A8
Samsung Galaxy A7 2015 and Samsung Galaxy A7 2016
Samsung Galaxy A5 2015 and Samsung Galaxy A5 2016
If you don't have a Samsung Phone, get it from your friends (Model must be from above list) and go to the Reliance Digital / DX Mini Store and ask for Jio SIM Card. They will most-probably see the Handset, some of the stores also note down the IMEI no. of the Samsung Mobile against which they provide the Jio SIM card.
You'll be lucky if the store doesn't ask you to show the Samsung Mobile Phone, and if that happens then you'll get the SIM on Non-Samsung Phone as well. 🙂
How to activate Reliance Jio SIM Card Without LYF Phones (For Rooted Android Phones):
If you can manage the SIM Card anyhow, you will be able to use all the services on almost all 4G & even 3G enabled smartphones.
Here is the Updated list of Devices on which we have used Reliance Jio 4G Surfing, and everything is working fluently:
Apple iPhone SE, iPhone 6, iPhone 6S, iPhone 6S Plus / Apple iPhone 5c
Samsung Galaxy J Max / Galaxy J7 / Galaxy J5 / Galaxy J3 / Galaxy J2 / On7 / On7  Pro/ On5 / Galaxy A3 / Note 4 / Samsung Galaxy Alpha
Micromax Yu Yureka Plus / Yu Yureka (2014/2015/2016 Models) / Yuphoria / Yunique / Yunicorn
Micromax Canvas Xpress 4G / Canvas Mega 4G / Canvas Evok / Canvas 6 Pro / Micromax Canvas 5 / Canvas Knight 2 E471 / Micromax Canvas Blaze 4G Q400 / Micromax Canvas Fire 4G Plus
Sony Xperia Z5 Dual / Premium Dual / Sony Xperia Z3+
Lenovo A2010 / A2020 / Vibe Shot / Vibe K5 Plus / Vibe K5 Note / A6000 Plus / Vibe K4 Note / Zuk Z1 / Vibe X2-AP / Vibe P1m / Lenovo A7000 / Vibe P1 Turbo / Vibe X3
LG Spirit 4G / Google Nexus 5x / G4 Stylus 4G / G3 4G LTE 32GB / G3
ZTE Blade S6 / S6 Plus
Intex Aqua Ace Mini / Aqua 4G Strong / Aqua 4G
Karbonn A71 / Aura / Karbonn Quattro L50 HD
OnePlus 1 / OnePlus 2 / OnePlus 3
Motorola Moto G (3rd Gen) / Moto E 2nd Gen / Moto E 2nd Gen / Moto G4 / G Turbo / Moto X Play
Xiaomi Mi5 / Redmi Note 3 (H3A) / Mi Max / Redmi 2 / Redmi 3 / Redmi 2 Prime / Xiaomi Mi4i
Alcatel Pop3
OPPO F1 / Neo 7 / F1 Plus / A37 / R7 Lite / Oppo Neo 5
Black BerryPriv (STV100-3)
Infocus M370 / M370I
Xolo Era 4G / Era 4K / Black 1X / Black 3GB
Gionee S6 / Life S6 / Marathon M5 Lite
LeEco Le 1S/LeEco Le 2 / LeEco Le 2 Pro
Coolpad Note 3 / Note 3 Lite / Note 3 Plus
Asus Zenfone Max (ZC550KL) / Zenfone 2 / Zenfone Selfie
Vivo V3 / V3 Max / Y21 / Y31 / V1 / V1 Max
Gionee F103 3GB RAM / Marathon M5 Lite / Elife S7 / Gionee Marathon M5 Plus / Gionee P5 Mini
Panasonic Eluga I2 3GB RAM / Panasonic T50
Huawei Honor 5C
HTC One E9+ / HTC Desire 626 LTE / Desire 820s / Desire 628 / Desire 820 / Desire Eye
Here comes the method where you can activate the Reliance Jio SIM Card and use all of its services without purchasing the LYF Mobile Phones.
Please remember this method can only be used if your phone is Rooted.
Here are the Basic Requirements before your proceed with getting Jio SIM Card:
First of all, you need a ROOTed Android Phone. If you already know what is rooting or your phone is rooted, you can proceed. Otherwise you can ROOT your phone if allowed by the Manufacturer or at your own risk.
Your Phone must be at-least 4G LTE Enabled (Its great if it does have VoLTE)
Download & Install Xposed Installer on your Android Phone
Now, Install the IMEI Changer App from Google Play Store
IMEI number of a LYF Handset (We do not appreciate this for commercial use. These steps are intended for Educational purpose only)
Step-Wise Procedure to get & use Reliance Jio SIM Card Features:
Place Reliance Jio SIM Card in SIM Slot-1
Download & Install the Xposed Installer and IMEI Changer Apps from above provided links
Open Xposed Installer and Activate Framework (For which, you need to go to Modules and Select the Xposed IMEI Changer) for Masking the IMEI number of your Android Phone, and go back (just to ensure everything is saved)
If your phone doesn't have Xposed Framework installed, then download the Xposed framework from http://dl-xda.xposed.info/framework/ and download the respective SDK Processor combination based zip file. For example in case of 64bit Mobile Phones like Yureka Plus which does have API23 (Android Marshmallow) in it, the users can download zip file – http://dl-xda.xposed.info/framework/sdk23/arm64/xposed-v86-sdk23-arm64.zip
Install this via Custom Recovery (TWRP Recommended)
Restart/Reboot the Phone
After Phone gets restarted, open up the IMEI Changer App and Enter the LYF Handset IMEI Number & Hit Apply Button
IMEI number of LYF Flame 2 Starts from 911501450159

—

, you can replace three dashes — with any random or unique digits.
Once you enter the IMEI Number, do a Soft-Reboot
Now you may notice that phone isn't showing any signal strength. To get Signal Strength, please follow the steps mentioned below.
How to get/activate Reliance Jio (Also get Signal Strength) on All 4G LTE/VoLTE Enabled Mobile Phones:
After Starting the Phone, create a New APN from
Settings > More > Mobile Networks > Access Point Names > Create New APN and write following settings:
Name- OriginalTips.com
APN: jionet and, Save this APN Setting
Go to Dialer & write *#*#4636#*#*
Go to Phone Information > Select LTE Only Option
Now download Reliance JioJoin App & Configure new Jio SIM Settings (if your Phone doesn't support VoLTE feature)
Now Tele-Verify your Jio mobile phone number (if not done already)

Wait for few hours and you'll get the message stating that your Jio services has been activated.
Update: Some of our readers are stating that they are getting only 2GB Data, 100 Minutes of VoLTE Calls and 100 SMS after activation. So here is the details about what actually this is.
After you have activated your Reliance Jio mobile phone number, you'll get only these benefits:
2 GB 4G Internet Data
100 HD Voice Calls
100 SMS
This is basically a FRC (First ReCharge) provided by Reliance Jio, which is given to all Jio customers as of now.
In order to get complimentary 4G Unlimited Data, Unlimited VoLTE Calls and Unlimited SMS, you need to activate the Unlimited Complimentary Offer for 90-Days (3 months).
Here is the method to activate Jio Services for Unlimited Data, Calls and SMS:
We are assuming that, you have already installed Xposed framework as above stated apps and done with changing the IMEI as discussed.
Install MyJio App
Open the App and hit on Install All Apps. (In my case, I have installed all apps)
Now Open MyJio app, you'll see this message
Close the Popup and Click on Avail Offer button
You'll see the message stating Congratulations, you have activated your Jio Preview Offer
After activating your Preview Offer, you'll see this message on your MyJio App
This will activate your Unlimited Preview offer
Don't worry if you get SMS from Jio stating that you have utilized so and so data out of 2GB.
Here is the sample message, you may get:
Dear Customer,
You have used 1.8 GB of your 2 GB GB from Mobile Data pack on your Jio Number 7011****** as of 06:47 AM Aug 4, 2016 Hrs.
For uninterrupted service manage your account with MyJio app, click www.jio.com/GetMyJio.
Thank you,
Team Jio
How to Get Reliance Jio SIM Card (Only for Samsung Phones):
If you have purchased the Samsung Medium to High End Phone, you can get Reliance Jio SIM Bundled for Free with 90 days of Free Unlimited Access to Data, Calls and SMS.
Here are the steps to get Reliance Jio SIM with Samsung Phones:
First of all Install MyJio App on your Samsung Android Phone
Check whether Reliance Jio 4G is available in your location/area or not.Please go ahead reading, if Jio is available in your location/area
Now Choose your ID (Identify Proof) and Address proof (e.g. Aadhaar Card, PAN Card, Voter ID Card, Ration Card, Passport etc.) and then Select option to submit to Reliance Digital Store Offline
Now go to any nearest Reliance Jio 4G SIM provider or Reliance Digital Store and give the proofs and Rs.200 for new Jio SIM Card (in case of non-device bundled offer). They will provide the Reliance Jio SIM Card to you
How to Tele-Verify Reliance Jio 4G SIM Card:
Insert Jio 4G SIM Card into your Android phone, where you have completed the above steps
After inserting the SIM Card, dial Customer Care Activation Number 1977 to activate your SIM card
Customer Care will pick up the phone. Provide them SIM Card Owner details to activate it
After verification, you will get the activation message on your phone along with the email. After tele-verification, activation may take upto 24 hours
This activated your Reliance Jio SIM Card
For further FAQs please visit – Reliance Jio Frequently Asked Questions
How to get Reliance Jio SIM With LYF Phones?
Update: Just go to any Reliance Digital or Reliance Digital Mini DX Store, and on purchase of any LYF handset, you'll get Jio SIM card free.
Reliance is giving free Jio SIM card with purchase of any of the LYF Mobile Phones.
So, if you have a requirement to purchase a 4G Smartphone then you can go with Reliance LYF Phones from any of the Authorized Reliance Digital Dealers or from the Reliance LYF official website – https://www.mylyf.com/.
You need to go to the Official Website of LYF Mobile Phone mentioned above, and sign-up for it, after which you will receive a Preview Offer Email to your provided email ID like this:

Reliance LYF Phones are spread in 4 categories – FLAME, WIND, Earth and Water LYF Phones.
FLAME LYF Phones are ranging from Rs.2,999 to Rs.4,999. Out of which FLAME 6 (Rs.2999) is being promoted in the emails as of now.
WIND LYF Phones are ranging from Rs.5,999 to Rs.6,899. Promoted phone under this category is: WIND 1 (Rs. 6,299)
WATER LYF Phones are ranging from Rs.7,599 to Rs.14,699. Promoted phone under this category is: WATER 7 (Rs. 12,999)
WIND LYF Phones are ranging from Rs.19,499 to Rs.19,999. Promoted phone under this category is: EARTH 2 (Rs. 19,999)
On purchase of these handsets, Jio is offering complementary Unlimited Access to all Voice, Data, and SMS for 90 Days (since date of purchase).
How to avail this offer:
What you need to do:

Step 1: Print a copy of the invitation email which includes a redeemable offer code
Step 2: Carry original and a copy of valid Proof of Address (POA), Proof of Identity (POI) and a passport size colour photograph – Click here to see what all documents proofs you can take along
Step 3: Locate the nearest Reliance Digital / DX Mini Store using store locator
Step 4: Visit the store with all the documents mentioned above and buy your LYF SMARTPHONE+
Step 5: Tele-verify within five days from the date of submission of Customer Application Form (CAF)
Step 6: Get your Jio Preview Offer

What you need to know:

The invite is valid upto the date mentioned above
The invite is non-transferrable. You can avail the Jio Preview Offer in your name only
The Jio Preview Offer can be availed only on LYF SMARTPHONE+
Post the offer period, Jio commercial tariff plan shall be applicable*
Click here to know the Tele-Verification process.
Alternatively you can visit the official Website of LYF Phones: MYLYF.COM, or you can contact them via email or phone at
Email: CARE@MYLYF.COM
Reliance Jio Customer Care Phone Number: 1800-889-9999
Reliance LYF Customer Care Phone Number: 1800-890-9999
Enjoy.
To be updated, please subscribe to comments or keep watching this page for more information!
Do you have some question regarding it? See our compiled list of Question and Answers about Jio here.