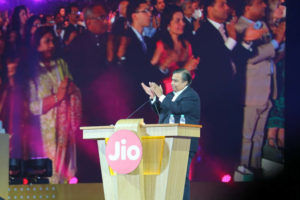 Reliance Jio. Yes, it is the name of that company, which has kind of Revolutionized the Internet Speed and Phone Usage by giving their users Unlimited 4G Data, Unlimited Calls and Unlimited SMS.
Reliance Jio has purchased various Frequency Spectrum Bands on which 4G operates e.g. 2300 MHz, 1800 MHz and the most valued 850MHz (The lesser the numbers, more is the coverage area).
So any 4G LTE phone that supports the above mentioned Reliance Jio frequencies that will work with JIO SIM.
Another important aspect of Jio 4G is the Call-Technology, where it works totally different. In the traditional networks viz. Airtel, Vodafone (Hutchison Essar), Idea, Aircel etc. the call is done via 2G Network, however in Reliance Jio, VoLTE technology has been used (which is Voice over Long-Term Evolution) used to transmit calls over LTE network.
This helps to get connected with Full-HD call with video-call with must faster connection than the earlier modes of communication. But to use the Jio services, you must have a VoLTE enabled Smartphone.
Reliance Jio has also made VoLTE technology available to the LTE Phone users via Jio Join Android App, which can be used to Receive/Make Calls and send/receive SMSes.
Reliance Jio SIM Card can be obtained and activated from the Authorized Retailer or Reliance Digital Showroom. Complete Procedure is available here.
Reliance Jio is only available via Bundled offer of LYF Phones, Samsung Phones and iPhones, and supported to multiple devices as mentioned here.
Promotional Offer:
Reliance Jio is offering the SIM card in Rs.200 with following benefits for 90 days (3 Months) from the date of purchase
Unlimited 4G VoLTE Internet Data (75GB Fair Usage Policy Apply)
Unlimited Phone Calls (FUP Apply)
Unlimited SMS (FUP Apply)

Reliance Jio SIM Can be obtained via below methods
By Getting an Invite from a Jio Employee
By Purchasing a LYF Phone
By Purchasing any partnered manufacturer like Samsung (Mid to High-End Devices), Apple (iPhone). More to be added to the list soon
If you are planning to purchase Reliance LYF Phones, please note these mobile phones are spread in 4 categories – FLAME, WIND, Earth and Water LYF Phones.
FLAME LYF Phones are ranging from Rs.2,999 to Rs.4,999
WIND LYF Phones are ranging from Rs.5,999 to Rs.6,899
WATER LYF Phones are ranging from Rs.7,599 to Rs.14,699
WIND LYF Phones are ranging from Rs.19,499 to Rs.19,999